Fred Olsen Windcarrier puts $311 million price tag on company ahead of Oslo IPO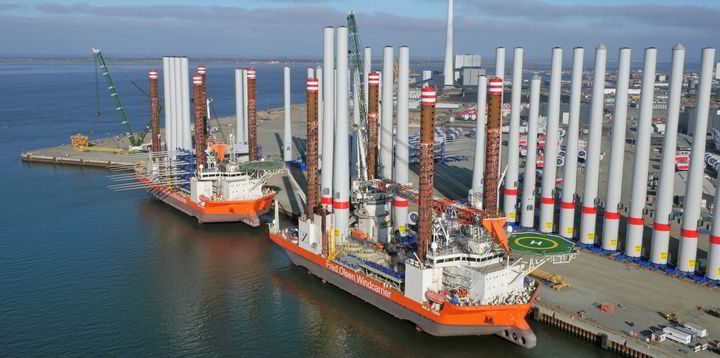 Norwegian Fred Olsen Windcarrier has revealed he will value the company between 250 and 275 million euros ($283-311 million) when it takes 30% of its shares to the Oslo Stock Exchange next week.
The company will issue 26 million shares at a price of NOK 50 to NOK 55 ($5.63 to $6.19) per share on or around February 24, to raise NOK 1.5 billion, or 150 million euros, said Bonheur, holding company of the Fred Olsen group.
Bonheur, through Fred Olsen Ocean, will retain approximately 69% ownership of Windcarrier after the IPO and is "committed to remaining a long-term majority shareholder in the company."
It will subscribe for 25 million euros worth of shares and has received significant anchor interest from Nordic institutions, international sector specialists and other investors for the listing.
Windcarrier has three purpose-built jack-up vessels for transporting and installing 15,328 GT wind turbines, and is considering ordering a fourth as it seeks to capitalize on a global energy transition to offshore wind.
The company describes itself as a "first mover" in new markets outside of Europe, such as the United States and Asia-Pacific, and claims to have installed around 20% of all offshore wind turbines globally, outside China.
The article continues below the ad
The turbines increase in size and its three ships are equipped with larger cranes. The first 1,600 tonne crane conversion was due to be carried out on the Bold Tern (built in 2013) in the first quarter of this year.
Installations will be carried out on Brave Tern and Blue Tern (both built in 2012) in 2024 and 2025 once charters are complete.
The company posted revenue of €93.8 million in 2021, with operating profit rising to €43.4 million from €17.5 million the previous year. Its order book stands at €355 million, options included.
The shipowner will join wind farm ship companies such as Edda Wind, backed by Wilhelmsen, and Cadeler, backed by BW Group, on the Oslo stock exchange following recent listings.
Last November, New York-listed wind turbine transportation company Eneti raised $175 million in a follow-on stock offering. The Scorpio Group company has transitioned from Scorpio Bulkers, selling its bulk carriers since 2020 to take advantage of growing wind energy markets.
Arctic Securities and DNB Markets, part of DNB Bank, act as global coordinators and bookrunners for Olsen's listing. SpareBank 1 Markets also acts as joint bookrunner.
The Fred Olsen Group is a sister company to NHST Media Group, which owns and publishes TradeWinds. The parent company of the two – Oslo-listed Bonheur – is run by the Olsen family's private holding company, Fred Olsen & Co.